Earphone/Headphone Assembling
Equipped with an earphone/headphone assembling workshop of about 20,000 sqm, over 20 finished product assembling lines and 12 finished product packing lines and front processing lines, we can produce 100,000 earphones/headphones of different types per day.
We have a noise elimination room with good sound insulation installed in the finished product production line for our examination of the finished earphones' volume and quality. We also have illustrated work instructions on all operation posts to guide and control the operation, every LQC operation post on the line performs 100% examination system.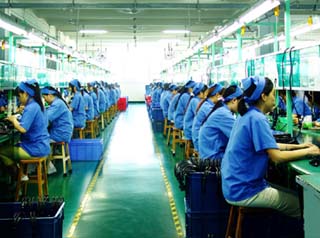 All our Acoustic, RF and ANC testing of our earphone/headphone are using ATE technique and all testing data are uploaded into our MES (Shop Floor Control) system, so that real time yield rate can be real time monitored. Moreover, we put a lot of investment in semi-automatic and automatic earphone assembling and are making the bulk of electric and pneumatic tools by ourselves, which makes our earphone/headphone assembling technique enter a new stage. We can produce various advanced electric earphones with surrounding stereo, automatic noise cancellation, USB and Bluetooth technology, as well as other common earphones/headphones of different grades.
We desire We Explore
Innovation